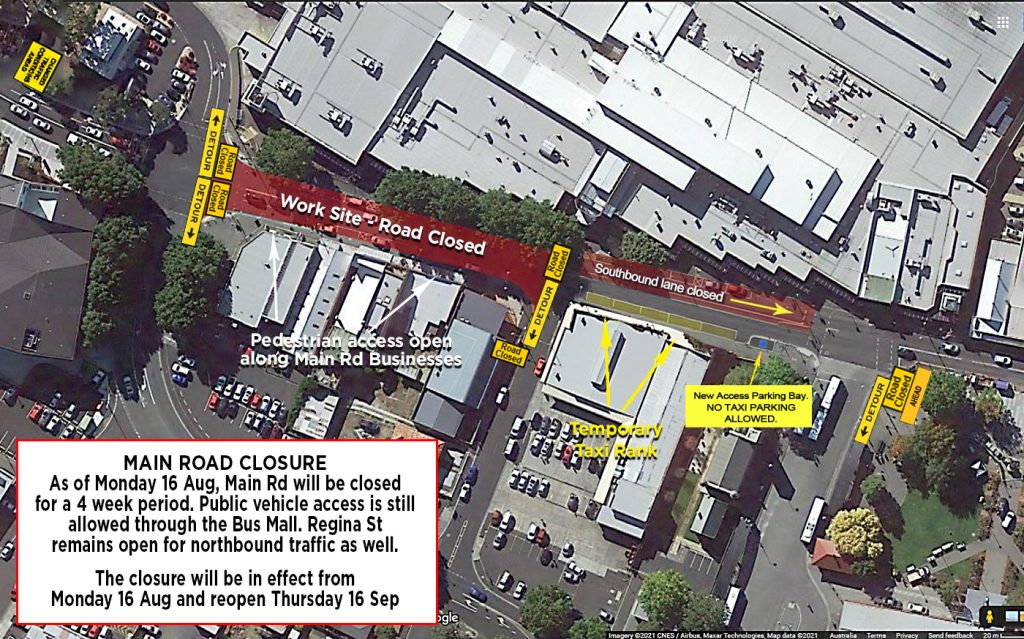 The end is in sight for the Glenorchy CBD revitalization works on Main Road. The major capital works project to completely upgrade and improve the central hub of our city, is due to be completed by September 2021.
In a final push, the northern end of Main Road, Glenorchy (between Regina Street and Barry Street) will be closed in both directions for up to four weeks. This is to complete the raised table works and new electrical and water trenching, under the roadway.
Key points during the road closure:
Both North and South bound lanes of Main Road between Regina Street and Barry Street will be closed from Monday 16 August 2021 until Thursday 16 September 2021.
Road users heading northbound along Main Road can still turn left onto Regina from Main Road.
The Glenorchy Bus Mall is still open for public vehicle access.
A temporary taxi rank will be located outside A1 Fruit Market.
Pedestrians will have full access to all Main Road businesses.
The project, which was planned in stages across three years, both for consideration of the works required and to manage the cost to the ratepayer over a longer period, has remained steadfastly on schedule and on budget. The final stage of works is underway at the northern end of the CBD and works are scheduled to be completed in late September.
The community are already benefitting from the CBD's completed spaces with brand new public seating, wider footpaths and dedicated spaces for disability parking and maxi taxis, already in use. The CBD project, at its heart, seeks to transform this space into a lively pedestrian hub for shoppers and visitors alike to spend time and support the local businesses. Enhanced LED street lighting and a lowered speed limit promote a calmer and safer environment for the community to enjoy both day and night.
As the weather improves and the days get longer, we encourage you to come along a check out the new CBD space, bring the family, stroll to the various eateries and retailers and enjoy what our Glenorchy CBD has to offer.