We want to create an age-friendly community providing opportunities for people to be included, feel safe, have a healthy lifestyle, and to take part in activities that help them to be active and positive as they age.
Positive and active ageing is about:
connecting with others in your community
being as physically active as you can be
being as mentally active as you can
having access to services and facilities
being part of community events and activities
contributing to others or the community
having a positive outlook on life
Our programs and services
We have a range of programs and services that support and encourage positive, active ageing in Glenorchy.
Our Successful Ageing Framework (PDF) outlines what we will do to encourage positive ageing in our community.
We offer a 'driver-to-collect' service for people who are not able to place their wheelie bins at the kerbside. It does not cost extra but you will need a Doctor's Certificate to access this service. Read more about this on our Additional waste services page.
The Glenorchy Handbook of Positive Ageing (PDF) contains a large range of activities for older people to participate in, keep active, enjoy and connect with others in the Glenorchy community. The activities are age-friendly, accessible, and free or low-cost.

Linkages
Linkages is a group of government and non-government organisations that supports people with a disability, older people, and their carers in the Glenorchy area.
Linkages gives members an opportunity to share information, find out what is happening in other services, build partnerships, get inspired, come up with new ideas, and support each other to provide the best service possible to the people they work with in our community.
Linkages meets 5 times a year. The meetings are informal, and include guest speakers, positive activities, and time to share information on what is happening in your service.
You can participate in Linkages by:
attending our friendly meetings
receiving minutes and service updates from the meetings
joining the email network.
Linkages also produces a members-only directory, to help members to contact and support each other. To find out more about Linkages, email the Successful Ageing Officer via gccmail@gcc.tas.gov.au or phone (03) 6216 6800.
Live Well, Live Long program
Live Well, Live Long is a FREE 11 week program of activities and information that provides a holistic approach to health and wellness. This program is a joint collaboration between Glenorchy Council, Clarence Council and the Tasmanian Health Service.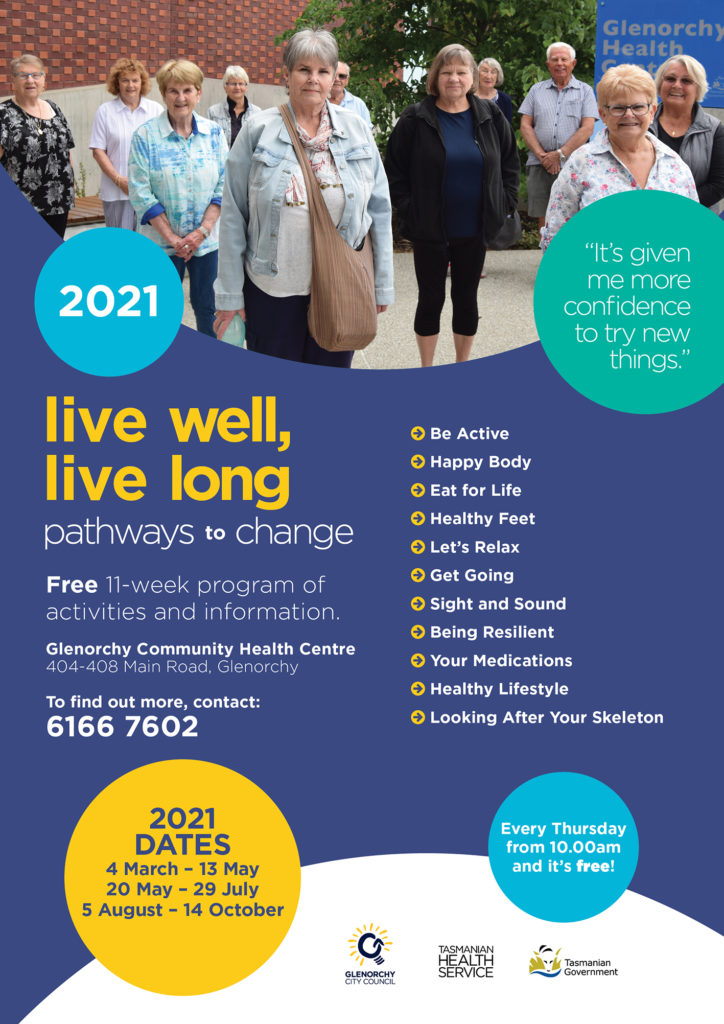 The Live Well, Live Long program transitioned to community radio during 2020 to keep our community connected as part of the COVID-19 recovery journey. You can listen to episodes here (external link).
We are excited to bring you the 2021 program (left). Please click the image to download (PDF).