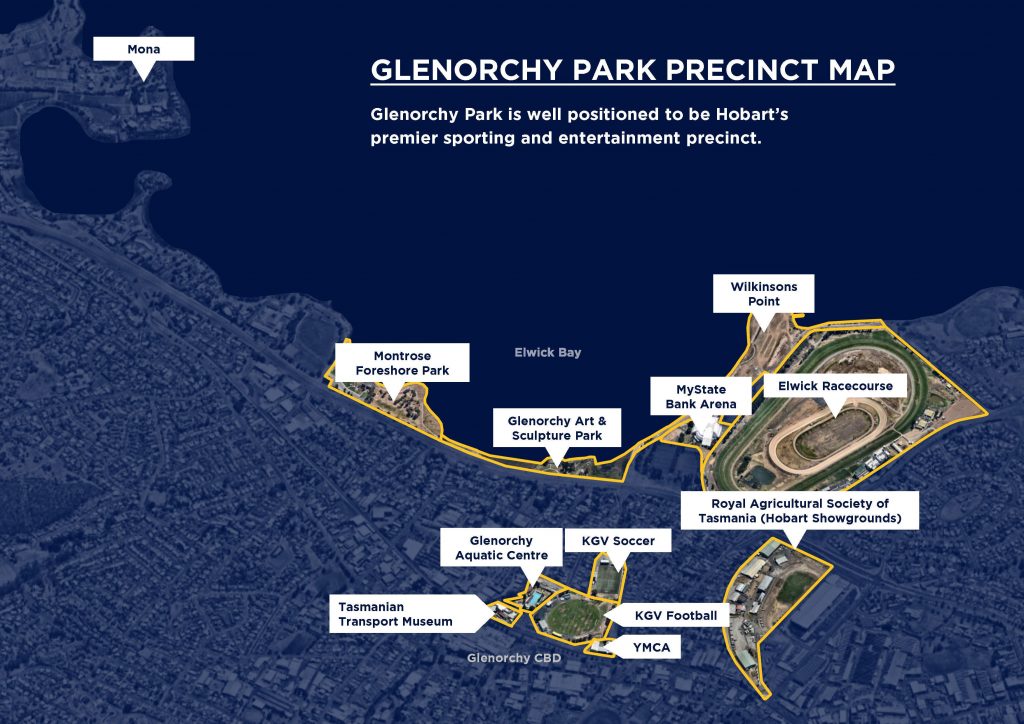 Glenorchy City Council is seeking public comment on a masterplan for what it hopes will become the premier sporting and entertainment hub for Tasmania.
The cluster includes MyState Bank Arena (formerly Derwent Entertainment Centre), Elwick Racecourse, KGV Precinct, Hobart Showgrounds and Wilkinsons Point and has the potential to be one of Tasmania's major sporting and entertainment precincts.
The draft masterplan draws inspiration from similar precincts around Australia, such as Albert Park in Melbourne and Moore Park in Sydney.
It envisages Glenorchy Park as a well-connected, thriving and vibrant precinct that delivers sport, entertainment, tourism and cultural facilities for the community and broader region, and a city-defining brand.
Mayor of Glenorchy, Bec Thomas, said the potential of the site was enormous, and welcomed potential investment in the city and its job creating potential.
"With more than $150 million of investment coming into the Glenorchy Park area, we want to make sure the people of Glenorchy can enjoy all the benefits it offers.
"Through this plan we will see more jobs, better connections to our beloved Montrose Bay foreshore and access to incredible facilities and open spaces to work and play" Mayor Thomas said.
By articulating the vision and connectivity, the masterplan will also help promote future investment in our City's region-defining recreational facilities.
The prime location of the precinct, adjacent to the Glenorchy CBD and Derwent River foreshore is perfect to take advantage of public transport options and ease of access to the Greater Hobart Region.
Among the draft actions in the masterplan are proposals for innovative solutions to event parking and public transport, safer accessible pedestrian linkages between facilities so people can go from one event to another or visit adjoining restaurants and cafes.
The masterplan allows for the development of a Visitor Accommodation Strategy so people can 'stay and play' in the precinct and encourages a ferry link between MONA and Wilkinsons Point that connects with other Hobart destinations.
Have your say on the Glenorchy Park Masterplan
Glenorchy City Council is seeking public feedback on the draft Glenorchy Park Masterplan, and encourages everyone to to make submissions and leave comments on Council's Let's Talk Glenorchy engagement site.
Submissions and comments are open from now until the end of January 2022.
You can also call us on 6216 6800 or email economy@gcc.tas.gov.au for further information.