Bicycle Network Tasmania is teaming up with Glenorchy City Council to offer Free 'Back on your bike' sessions in June. If it's been several years since you last rode a bike and you'd like to get back on but feel a bit nervous, then these free sessions are designed just for you.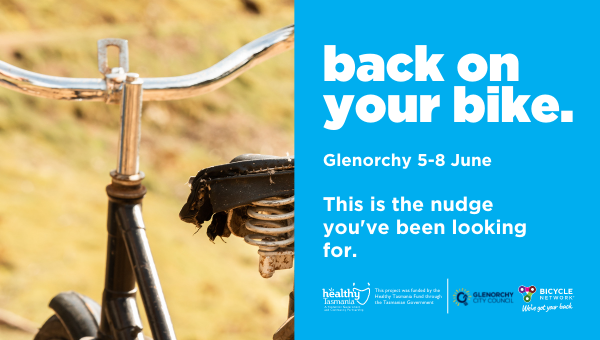 As part of a small group you will run through a refresher on bike skills and some basic bike maintenance, before going for a ride in either an on-road or off-road setting. There will be a range of bikes available for those unable to bring their own, and participants can sign up for a free 3-month membership with Bicycle Network.
Cycling and outdoor activities are an important part of a healthy lifestyle. Staying active can improve your general fitness, mental wellbeing and are a great way to socialise with others. 'Back on your bike' sessions are designed for adults who are wanting to re-start their cycling abilities in a safe and guided process. Sessions are being held in Glenorchy city centre, Tolosa Park and Montrose Foreshore and are free to attend. If you'd like to come along please register via the link below or contact the Healthy Communities officer at Council for help. Phone 03 6216 6800.
Sessions

GLENORCHY CITY CENTRE
Sunday 5th June
10am – 11.30am | 12.30pm – 2pm
Wednesday 8th June
10am – 11.30am | 12.30pm – 2pm
TOLOSA PARK
Monday 6th June
10am – 11.30am | 12.30pm – 2pm

MONTROSE FORESHORE
Tuesday 7th June
10am – 11.30am | 12.30pm – 2pm


Just register via the website www.bicyclenetwork.com.au/back-on-your-bike.
If you can't make it this time, there are more sessions being planned and you can register your interest on the Bicycle Network website.