Our Bushfire Mitigation program works on Council-managed land and undertakes the following activities:
Maintenance of approx. 70 km of Council-managed fire trails, including strategic fire trails which are essential for fuel reduction and bushfire suppression
Monitors forest health and fuel hazard accumulation rates to inform our understanding of the bushfire risk throughout the municipality and Greater Hobart
Assesses natural and cultural values to inform the bushfire mitigation program
Actively reduces bushfire risk by physically removing the build up of bushfire fuels in bushfire-prone areas such as Wellington Park, N.R. Pierce Reserve (Goat Hills) and Poimena Reserve through activities such as fuel reduction burns and mechanical treatments (non-burning methods to reduce fuels)
Closes bushland reserves when there is a heightened risk of bushfire
Closes fire trails and access points when conditions are unsafe for vehicles or recreational users. Check out current closures.
Want to know more about it? Read more below or watch the video: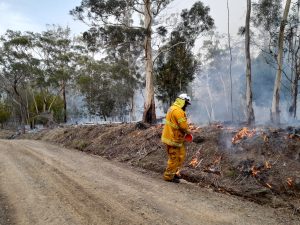 The build up of fuels in bushfire-prone areas contribute to the risk of bushfires. Fuel reduction burns are one method to reduce this build up of fuels.
In Glenorchy, these burns are planned and delivered as part of a tenure-blind, state-managed Fuel Reduction Program which is funded, coordinated and implemented by the Tasmania Fire Service, Parks and Wildlife Service and Sustainable Timber Tasmania. The tenure-blind approach recognises that bushfire risk and bushfires don't recognise property boundaries, so the program operates on both public and private land.
Council supports this program by assisting in the delivery of fuel reduction burns within the Glenorchy municipality.
To learn about the State's fuel reduction program, what fuel reduction burns are planned, completed or happening now (including in Glenorchy), visit the Tasmania Fire Service What's Burning Now page.
Council uses mechanical methods such as pruning, slashing and/or thinning of vegetation as one of methods to reduce build up of fuel that contribute to bushfire risk.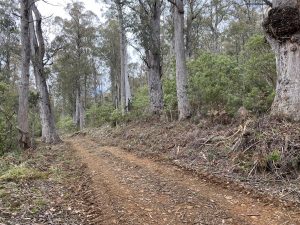 We employ mechanical methods (in conjunction with other fuel reduction methods) across various identified areas to reduce fuel build up. These include:
Hazard Management Areas (defendable spaces between private property and bushfire-prone areas)
Fuel Breaks (an area of land, often a strip, where vegetation has been strategically removed or modified to separate bushfire fuels)
Fire Trails (which provide access to bushfire-prone areas during a bushfire or other emergency)
Nearby Safer Places (a place identified by the Tasmania Fire Service as a last resort for people during bushfire emergencies)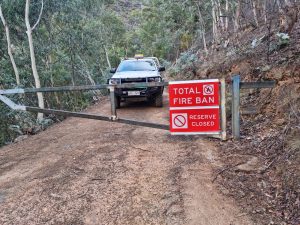 Bushland areas are closed in response to certain fire danger conditions. In Glenorchy these areas include Wellington Park, N.R. Pierce Reserve (Goat Hills) and Poimena Reserve.
Closures are communicated on Council's Facebook page and on signage at the main entry points to these reserves.
See current trail closures: Winter 2022 trail closures and map (PDF)
Total Fire Bans
When Fire Danger Ratings are high, the Tasmania Fire Service also enacts a 'Fire Permit Period' and on certain days a 'Total Fire Ban'. On such days, individuals and businesses are restricted on what they can do outdoors.
Total Fire bans and fire restrictions are communicated by the Tasmania Fire Service(TFS) on the TFS Facebook page, the TFS website and on ABC radio (tune in to (936AM).
Learn more about using fire outdoors by reading the Tasmania Fire Service Using Fires Outdoor information booklet.
Fire Danger Ratings
In Australia, formal fire danger ratings were first produced in the 1950's and 1960's by A. G. McArthur. The McArthur system was used for many decades and has undergone various modifications during its lifespan.
In 2022 it was replaced by the Australian Fire Danger Rating System (AFDRS) marking a generational change to the way fire danger is calculated and communicated.
The AFDRS calculates, forecasts and reports fire danger using up-to-date fuel state data, spatial and satellite data, weather data, science and technology.  It takes advantage of the many decades of research about how fire behaves, incorporating a wider range of fire behaviour models (eight as opposed to the two used by the McArthur system) to better represent the variety of Australian vegetation and fuel types.
More information about the AFDRS can be found here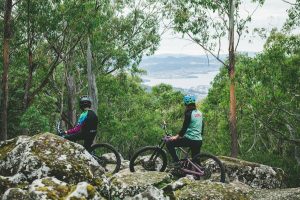 Many of the fire trails managed by Council are available to recreational users such as walkers, runners, bike riders and dog walkers. You can find more information about recommended trails to experience on the Greater Hobart Trails Glenorchy page.
In the event we need to close a trail, we put up signage to alert users.
For those interested in four-wheel driving or horse riding, specific fire trails in the municipality are available for use. These are managed by the Tasmania Parks and Wildlife Southern region office. To find out more visit the Wellington Park Four Wheel Driving page. Note a permit and a key are required before attempting to access these areas by four-wheel drive or horse.
Learn about recreational access in Wellington Park by viewing the recreational access map.