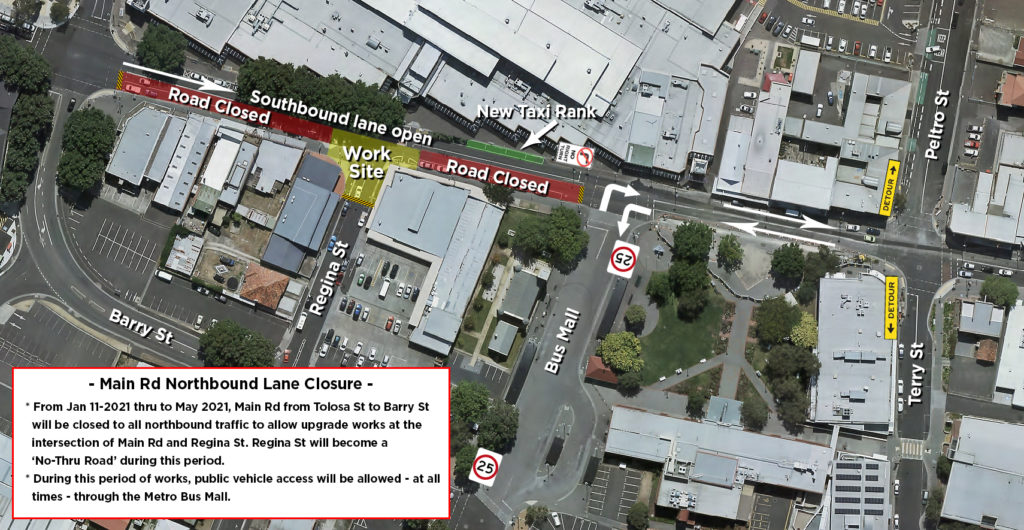 In 2021 work will re-commence on the CBD revitalisation project in the heart of Glenorchy's shopping district.
The next stage of works involve major works on the intersection of Regina Street and Main Road, Glenorchy. During this work the northbound lane (between Tolosa Street and Barry Street) will be closed to traffic. Regina Street will become a 'no-thru-road' during this time.
The southbound lane remains open and includes four newly constructed taxi bays and a maxi taxi bay for use directly in front of the Northgate shopping complex.
A traffic change has been implemented (as pictured) to allow public vehicle access through the Glenorchy bus mall at all times. A reduced speed of 25km/ph will apply.
Please take care to watch out for pedestrians and motorists at all times and observe the traffic management directions in place.
Click here to watch Mayor Kristie Johnston's video on the changes.
For more information on the CBD Revitalisation Project please click here.