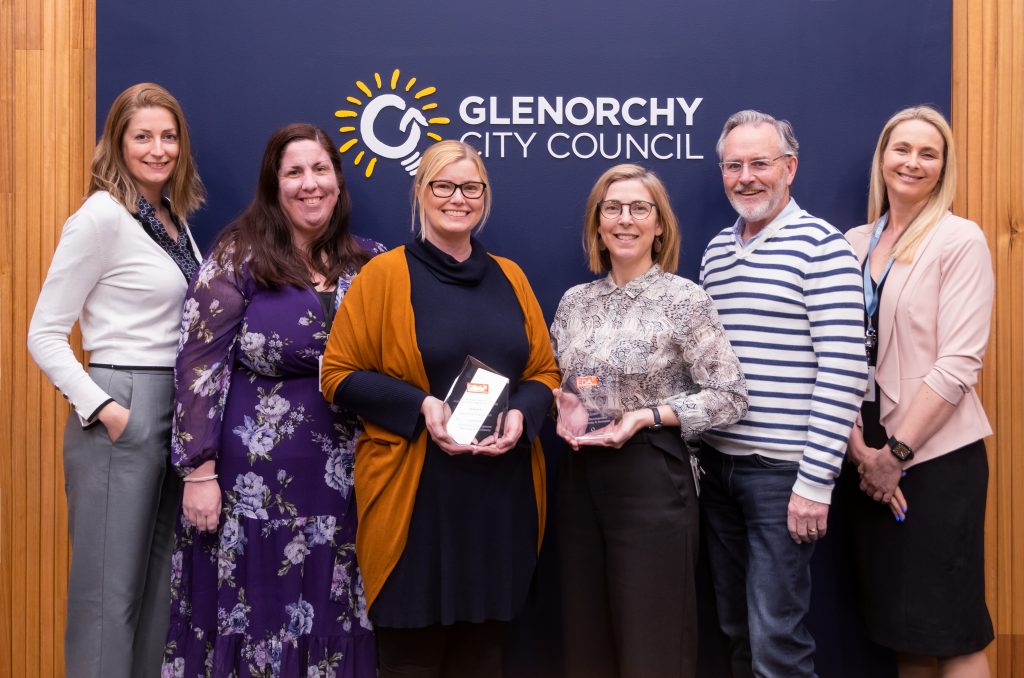 Glenorchy City Council has achieved national recognition, beating over one hundred entries from across the country to win two awards in the Economic Development Australia 2021 Awards for Excellence.
The Glenorchy Economic Recovery Program won the award in the Economic Recovery and Resilience category. Other shortlisted nominees were Cairns Regional Council and Melbourne Innovation Centre.
The Glenorchy Economic Recovery Program was established in response to COVID-19.
The approach developed by Council's economic development team was to address on-the-ground issues faced by businesses during the crisis, while addressing deeper foundational challenges to sustain and grow the economy over time.
The Glenorchy Economic Recovery Program was a combination of immediate direct economic investments for recovery in highly impacted industry sectors, such as retail, arts and recreation and hospitality.
The Economic Recovery Program drew heavily on Glenorchy's Economic Development Strategy, endorsed just weeks before COVID-19 reached us and was prepared in collaboration with business, industry, other tiers of government and community organisations in the Glenorchy area.
Examples of projects implemented under the Glenorchy Economic Development Program are Activity City and the Corridor of Modern Art.
Strategic investment was also made in projects that aim to build economic resilience over the longer-term, such as the Greater Glenorchy Plan, Marine and Innovation Masterplan and the Glenorchy Park projects.
Working with key stakeholders, these projects will maximise the efficiency, sustainability and success of these important economic precincts in the area.
The Showcase Moonah Creative Hub also won the Economic Development Diversity and Inclusion category.
Showcase Moonah's success was ensured by enabling local business, innovators, and creatives to showcase Moonah with their own activities and events.
The return on investment was extremely positive, both financially and in terms of outcomes, truly bringing the Moonah precinct to life.
Participants were as diverse as the local community, including local businesses, multicultural communities, a youth social enterprise, artists, musicians, people living with disability, and not-for-profit groups. The facilitation of multiple projects in unison meant that inter-community collaboration was incentivised and enabled.
Glenorchy Mayor Bec Thomas was full of praise for Council's efforts.
"Winning these awards shows how successfully our Council has managed the impacts of the COVID-19 Pandemic and how committed we are to the economic and social development of our City" Mayor Thomas said.
"From the very early days, we focussed on ensuring that Glenorchy not only weathered the COVID storm but set ourselves up to thrive into the future.
"The vision and expertise of our economic development team in developing our economic recovery program and executing its various complex and innovative projects has been truly remarkable" Mayor Thomas said.
"The national acclaim they have received speaks for itself. I'm so proud to say we're one of the leading councils in Australia in economic development.
"My sincere thanks also goes to the stakeholders who contribute to our economic development initiatives – a range of businesses, community organisations and individuals are involved in what is a whole of community effort.
"The Economic Development Australia Awards demonstrate we are working harder and smarter for our residents to make Glenorchy a better place, every day."